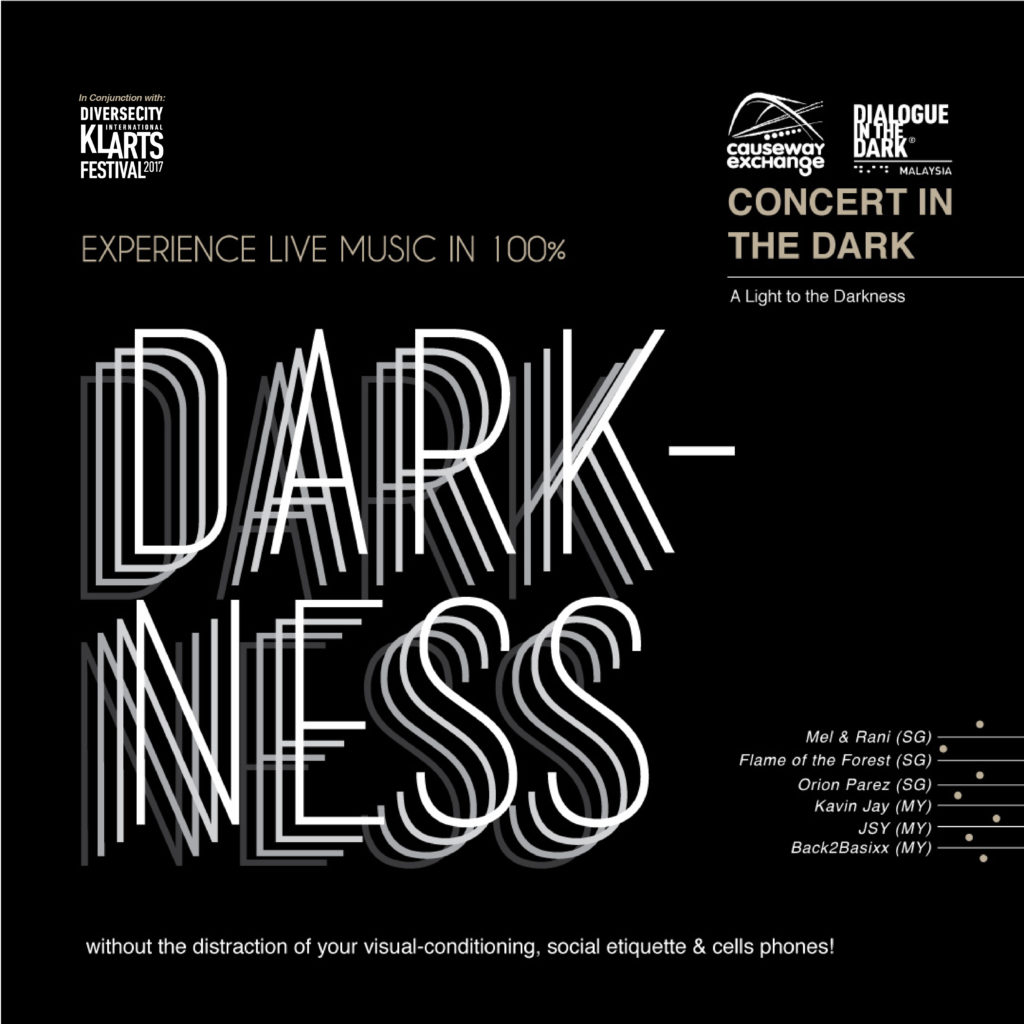 Attend a performance in absolute darkness by musicians and comedians from Singapore and Malaysia, and gain insights into the world of those with visual impairment.
Singapore International Foundation is the main partner for CausewayEXchange Arts and Healing. Organized by DMR Productions and Global Cultural Alliance in partnership with Dialogue in the Dark Malaysia and supported by National Arts Council.
Date: 22 September 2017
Time: 8pm to 10pm
Venue: Gallery, Oasis Village, Oasis Damansara,
Jalan PJU 1A/7A, Ara Damansara, 47301 Petaling Jaya, Selangor, Malaysia
Fee: RM 150 (Early Bird before 15 September) / RM 200
Tickets: http://did.my
FLAME OF THE FOREST
Flame Of The Forest (FOTF) was formed in 1986 as a dynamic trio coming together for the love of music. Five years ago, Krsna and Govin Tan inherited the band from their father and sought to update the concepts and philosophies bestowed by their predecessors.
Incorporating styles from other genres, the band synergises different ideas and concepts from all other music with their understanding of Indian classical and folk music, concocting a distinctive and refreshing sound world . The band also modernises vital concepts of World Fusion Music that are easily ignored by many.
FOTF aims to give an enhanced perspective on the musical alchemy by inspiring, influencing, educating and communicating with listeners through their music.
JSY
Formerly known as "Lee Peng Trio", Jiushiyi is a jazz band based in Kuala Lumpur (KL). They made their debut appearance at the 4th Malaysian Jazz Piano Festival in 2017.
The band consists of pianist Lee Peng, bassist Jen Wei and drummer Terrence Ling before the addition of Eddy Lim, a saxophonist who graduated from Birmingham Conservatory, and Celist Chow, the top 10 of Malaysia's prestigious singing contest, Astro Star Quest 2014. The band regularly plays in Imaginarium, the prominent jazz club in KL and also perform for events, weddings, corporate shows and festivals. They also recently participated in Bobo KL and No Black Tie, in conjunction with the celebration of International Jazz Day 2017. Jiushiyi plays their own compositions and rearrangements of well-known contemporary tunes.
Joining them would be Chin Pik Kei , also known as Keira, who is currently pursuing her Masters in Performing Arts (Music) in Universiti Malaya after completing her Bachelor Degree of Music in Universiti Putra Malaysia with first class honours. Beyond actively performing in corporate/private functions and events, she is also a member of the Kuala Lumpur Performing Arts Centre (KLPAC) orchestra.
MEL FERDINANDS
Mel Ferdinands belongs to one half of the popular duo Mel and Joe Ferdinands, two brothers from Singapore who first appeared on National Television in 1971 before eventually becoming a favourite in the Singapore entertainment scene. In 2010, the Ferdinands celebrated their 40th Anniversary with a sell-out concert. Mel is currently the deputy chairman of the board of directors, and chairman of the PR and Membership committee for the Composers and Authors Society.
KAVIN JAY
One of Malaysia's most underrated comedians, Kavin Jay is a rapid-fire grumpy joke-telling machine. He may be grouchy but does it with such panache, you can't help but laugh. He is an integral part of the comedy revolution in Malaysia. Since his first performance in 2006, Kavin has tickled ribs and charmed audiences of many denominations. His major involvements include the 2014 Mumbai Pyjama Comedy Festival, 2016 Singapore Fringe Festival and 2017 Perth Fringe Festival. He has performed all over the world including Indonesia, Hong Kong, Australia and the United Kingdom. Still lauded as the best underground performer in Malaysia, he has charmed many audiences in corporate events with brands such as Maybank, Petronas, Monash University, Malaysian Bar Council and Air Asia.
ORION PEREZ
Orion Perez, also known as "the Master of Accents", was the 2014 winner of the Magners Singapore International Comedy Festival Best New Act Competition and was sent to perform at the Edinburgh Fringe Festival as his prize. He has opened for international acts such as Butch Bradley, Paul Ogata, Tom Rhodes, Tom Cotter, and even JackAss former stunt comedian Steve-O. Orion was featured as Comedy Central Asia's February 2016 Comedian of the Month.