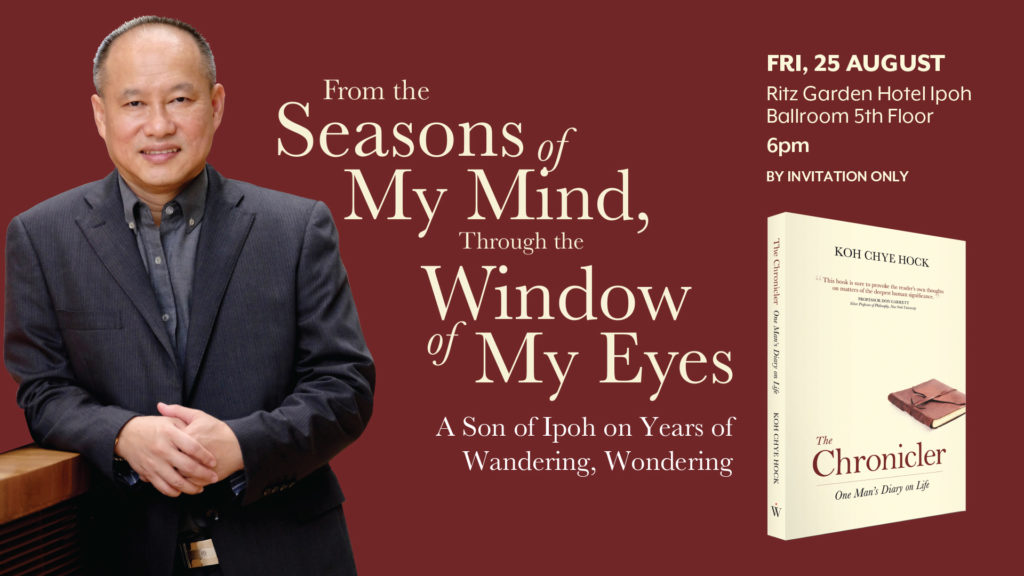 From the Seasons of My Mind, Through the Window of My Eyes: A Son of Ipoh on Years of Wandering, Wondering 
Date:  Friday, 25 August 2017
Time:  6.00 pm
Venue:  Ritz Garden Hotel Ipoh, 86-88 Jalan Yang Kalsom, 31400 Ipoh, Perak, Ballroom 5th Floor (Garden Wing)
Ticket: By Invitation only.  Interested parties kindly email  chyekoh76@yahoo.com by Monday, 21 August 2017
It is a life shaped by extremities of experience: growing up as an orphan in 1960s and 1970s Ipoh, studying in the United States and the United Kingdom of the 1980s and now, a successful corporate lawyer in a multinational firm in 21st century Singapore. Chye has lived in several countries and continues to travel half the world for his work.
And, it is this rich and diverse journeyand experience that has led Koh Chye Hock to write his first book, The Chronicler: One Man's Diary of Life  which comprises 225 aphorisms that has drawn praise from readers from all sectors of the community. Here, for the launch of the book in Ipoh, we have assembled a rich array of associates, including two of Singapore's most well known literary advocates, former Executive Director of National Book Developing Council of Singapore R Ramachandran and publisher of the book in Singapore, Tan Chin Kar, to share the experience of producing such a book, to share about why books matter and finally to share about why thought and observations of an individual matters to us and why we should take an interest in and care for  the life of others.
KOH CHYE HOCK specialises in oil and gas law and works for an American multinational oil company. He holds a Bachelor of Arts and Master of Arts in Philosophy, from the University of Utah, USA, and an LL.B (Hons) and LL. M, respectively from the University of Wales, Aberystwyth, UK, and Georgetown University Law Center, Washington, D.C..  A winner of the Graduate Book Prize (Philosophy), he was an Obert C. Tanner Fellow and a Chevening Scholar. He is admitted to the Supreme Court of Virginia, USA, and the United States Courts of Appeals for the Fourth Circuit.  As the Chairman of the Board of the Philharmonic Winds (Singapore) Ltd as well as a member of the board of other non-profit organizations, Chye continues to serve his community.  Hailed from Ipoh, Malaysia, Chye is married to Filona and with their son, Corey, live in Singapore. He continues to keep a journal.