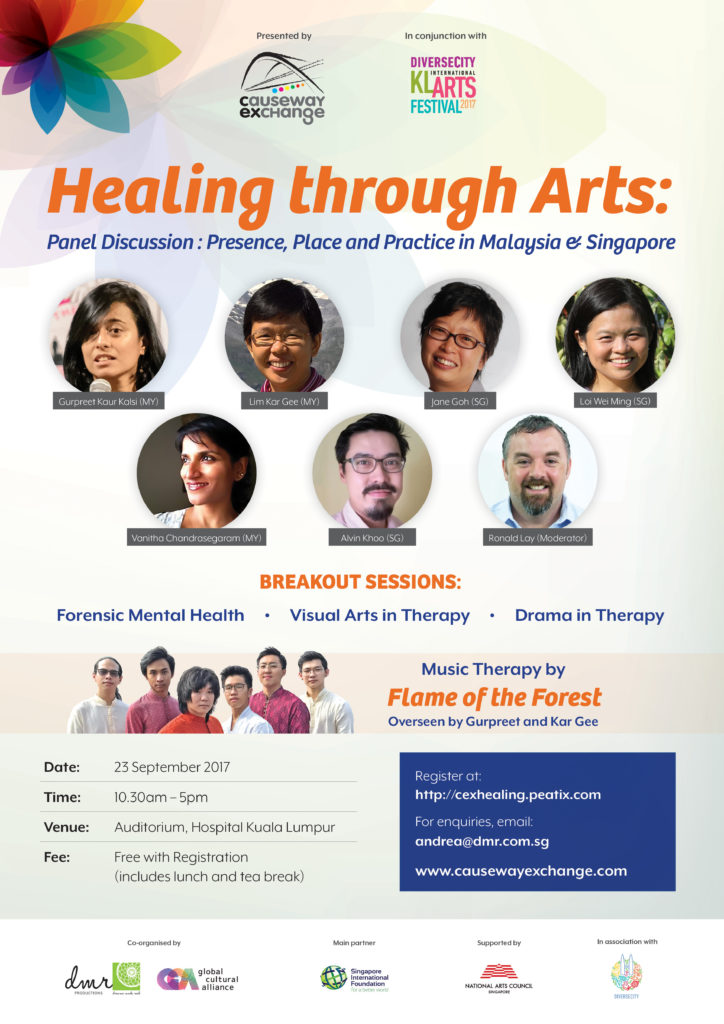 How powerful a medicine are the creative arts? Join us for a therapeutic and thought-provoking forum as we delve into the discussion of arts, therapy and healing through a panel discussion, music performance and workshops.
Programme
Panel discussion "Presence, place and practice in Malaysia and Singapore." involving arts therapists from Singapore and Malaysia
Music performance performed by Flame of the Forest
Workshops conducted by creative art therapists  Ms Vanitha Chandrasegaram, Ms Gurpreet Kaur Kalsi, Ms Lim Kar Gee, Mr Alvin Khoo, Ms Loi Wei Ming, Ms Jane Goh, & Moderated by Ronald Lay.
Date: 23 September 2017
Time: 10:30am to 5pm
Venue: Hospital Kuala Lumpur
Register: http://cexhealing.peatix.com for enquiries email andrea@dmr.com.sg
Fee: FREE (Includes lunch and Certificate of Participation)
PROGRAMME
10.30am Registration /Breakfast
11.00am Opening Address
Panel Discussion: Introduction by Ronald Lay
11.30pm Panel discussion "Presence, place and practice in Malaysia and Singapore."
On the panel:
Ms Gurpreet Kaur Kalsi (MY)
Ms Vanitha Chandrasegaram (MY)
Ms. Lim Kar Gee (MY)
Mr. Alvin Khoo (SG)
Ms. Jane Goh (SG)
Ms Loi Wei Ming (SG)
Mr Ronald Lay (MODERATOR)

1.00pm Lunch
2.30pm Interactive Music Therapy by "Flame of the Forest" Conducted by Gurpreet, Kar Gee & Wei Ming
3.15pm Break out Session
(i) Arts in Therapy – Conducted by Jane Goh (FULL)
(ii) Drama Therapy – Conducted by Vanitha
(iii) Positive Energy – Conducted by Alvin Khoo
(iv) Forensic Mental Health – Conducted by Ronald Lay
4.15pm Tea Break
4.45pm Closing

BIOS OF PANEL THERAPISTS
Gurpreet Kaur Kalsi (MY)
Gurpreet Kaur Kalsi, also known as Preet, is a licensed practising music therapist registered with the Health and Care Professions Council, United Kingdom. She holds professional memberships with the British Association for Music Therapy and the Association for Music Therapy Singapore.
Preet is at present attached to Jesselton Medical Centre in Kota Kinabalu as a visiting consultant where her music therapy clinic based. She is also the Sabah representative for the Malaysian Society for Music in Medicine. Her 17 years of experience in the areas of mental health, palliative care, rehabilitation and disability has allowed her to care for people of all ages. She also collaborates with other agencies to provide music therapy to their service users.
An accomplished musician, Preet obtained her Postgraduate Diploma in Music Therapy from Roehampton University in London and her Masters in Music Therapy from the University of the West of England in Bristol.
Vanitha Chandrasegaram (MY)
Vanitha Chandrasegaram is the pioneer Dramatherapist in Malaysia and has been practicing for the past 12 years. In her practice, she uses creative tools such as storytelling/story making, play, art work, acting, voice, dance, movements and puppetry to facilitate the process of healing, developing and rediscovering the self.
In Malaysia, Vanitha has worked with a vast variety of organisations and institutions and clients from ages three to 90 and with those who suffer from the lack of self-esteem and confidence caused by abuse, trauma and other life challenges.
Vanitha has also worked in the United Kingdom (UK) and presented papers, workshops and training in the UK, United States of America, India, Lebanon, Australia and Malaysia.
Vanitha has also headed a home for over 70 underprivileged children and lectured subjects in psychology at various private universities and colleges for British and American degree programmes and taught theatre for the elderly at a local university.
Lim Kar Gee (MY)
Lim Kar Gee is a music therapist with over 15 years of experience and is registered with the Certification Board of Music Therapists, United States of America (USA). She holds a Master of Arts in music therapy from St. Mary-of-the-Woods College, Indiana and a Bachelor of Arts in music therapy from University of Miami, Florida. She also obtained training in Music and Imagery from Anna Maria College, USA.
Kar Gee has worked with children with cancer and with special needs and has lectured part-time in prominent universities in Malaysia. She previously worked as a music therapy practicum supervisor and a guest lecturer in Central Conservatory of Music in Beijing, China.
As one of the pioneers in the music therapy profession in Malaysia, Kar Gee is often invited to lecture and present at confrences and in 2015 she conducted workshops and lectures throughout China.
Currently, Kar Gee works mainly with adults who face psychological and emotional challenges. She also lectures at Taylor's University in Kuala Lumpur.
Deborah Chen (SG)
Deborah Chen is the Deputy Head of Creative Hub at Singapore Association for Mental Health (SAMH). She has a background in Fine Arts and Design and completed her Masters in Art Therapy. Working with the community at large, she has been with the association since 2011. She believes that art can support an individual's well-being and how other modalities can be married with art-making to better enhance the quality of life of persons in recovery.
Alvin Khoo (SG)
Alvin Khoo graduated as an art therapist in 2011 from LASALLE College of the Arts and dedicated five years working on the developmental art therapy framework in an early intervention school fostering creativity and socio-emotional growth in children with special needs. He has also worked with adolescents with anger and self-harm issues, families handling grief, adult depression parent-child bonding, and corporate team building. He is passionate in designing innovative experientials to engender self-reflection, body-mind relaxation and fostering teamwork.
Currently, Alvin is dedicating his time to his family and working on designing art furniture for homes to encourage creative lifestyles for families.
Loi Wei Ming (SG)
Loi Wei Ming has 10 years of experience as a qualified Music Therapist in the Special Education field. She had a mid-career switch and was awarded the National Council of Social Service VCF Scholarship in 2006 to pursue a Post-Graduate Diploma in Music Therapy at Anglia Ruskin University, United Kingdom. In 2010, Wei Ming completed her Masters in Arts specialising in music therapy.
She was the founding treasurer in the Association for Music Therapy (Singapore) and co-authored 'Developing Music Therapy as a Professional Allied Healthcare Discipline', published on the Journal of Music and Medicine in 2014. Wei Ming has presented at various platforms including the Ministry of Education Arts and Music Conference, Music Therapy Symposium and Music Therapy Day @ Esplanade Library. Recently in 2016, she participated as a co-researcher, looking at the efficacy of music for improving language in children with special needs together with a speech-language pathology student from the National University of Singapore.
Ronald PMH Lay, MA, AThR, ATR-BC
Ronald PMH Lay has extensive mental health and service provision experience spanning over 25 years in three distinct countries: Canada, United States of America, and Singapore. He also has professional memberships with the Australian and New Zealand Arts Therapy Association , Art Therapy Credentials Board, the American Art Therapy Association, and the Art Therapists' Association Singapore.
For 12 years, Ronald provided art therapy to adults residing within a large forensic mental health facility in Northern California. The California State Legislature awarded him the Sustained Superior Accomplishment Award, a two-year honour, on two separate occasions. Ronald is the programme Leader of the MA Art Therapy Programme at LASALLE College of the Arts in Singapore. He also provides workshops and presentations internationally on several topics such as art therapy, forensic mental health and the development of art therapy in Asia.
Ronald is currently pursuing a Doctorate in Education at The University of Western Australia.
WRITE UP OF BREAK UP PANEL
Forensic Mental Health by Ronald Paul-Michael Henry Lay
Forensic mental health plays a critical role in the rehabilitation process of people within a range of legal systems.  Providing art therapy within these contexts can significantly improve creative self-expression, develop and reinforce key social skill sets, establish meaningful leisure skills, talents and interests, and enhance one's overall quality of life.  This presentation will explore these topics in relation to clinical case material and will be augmented through a hands-on art activity.
Drama therapy Introduction Workshop by Vanitha Chandrasegaram
This workshop, which is experiential in nature, aims to provide an opportunity for participants to experience what drama therapy is and how it can benefit individuals and groups who are facing emotional, mental health and various other life challenges.
In this workshop, participants will be introduced to a few dramatherapy activities which will involve some physical movements, story making  and dramatization.  There will be some time allocated at the end of the session for questions and answers about the session and feedback.
Positive Energy by Alvin George Khoo
The session involves an art-making activity that provides a time and opportunity for the individual to reflect, explore and create a unique symbol or picture that represents the positive life energy that drives them ahead with a meaningful and fulfilled purpose in life.
Arts in Therapy By Deborah Chen
Creative Services in Singapore Association for Mental Health brings to you our insights on the use of the arts within the mental health sector.
This session also includes the sharing of a personal testimony and an art making experience led by our beneficiary.