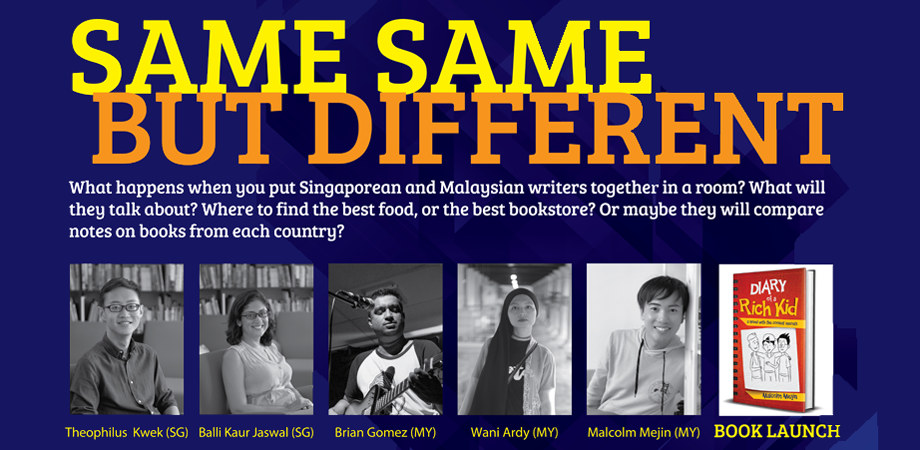 Same Same But Different
What happens when you put Singaporean and Malaysian writers together in a room? What will they talk about? Where to find the best food, or the best bookstore? Or maybe they will compare notes on books from each country? Four writers from both sides of the causeway have come together to take part in this special literary exchange, Same Same But Different. The view from across the causeway may seem similar but yet different. But perhaps the writers – in proximity with each other – will discover that they have more things in common than not.
Writers On Writers I
Featuring: Wani Hardy and Theophilus Kwek
Join Malaysian creative writer, poet and singer-songwriter Wani Hardy and the Singapore Literature Prize-shortlisted poet Theophilus Kwek as they talk about their love for poetry, and  why literature matters now more than ever.
Writers On Writers II
Featuring: Malcolm Mejin and Balli Kaur Jaswal (TBC)
How to mix humour, personal history and cultural markers into fiction, and turn it into a beguiling, potent read? The novelists Malcolm Mejin from Malaysia and Balli Kaur Jaswal will be on hand to share how they do it.
Performance and reading
Featuring: Brian Gomez, Wani Hardy and Theophilus Kwek
Same Same But Different wraps up with special performances by writers-musicians Brian Gomez and Wani Hardy, and poetry reading by Theophilus Kwek.
Programme Partner: Singapore Book Council
Rating:  General Public
Date: 23 September 2018
Time:  2:00PM
Venue:  Playden @ The Arts House
Tickets: FREE with Registration at  https://samesame2018.peatix.com