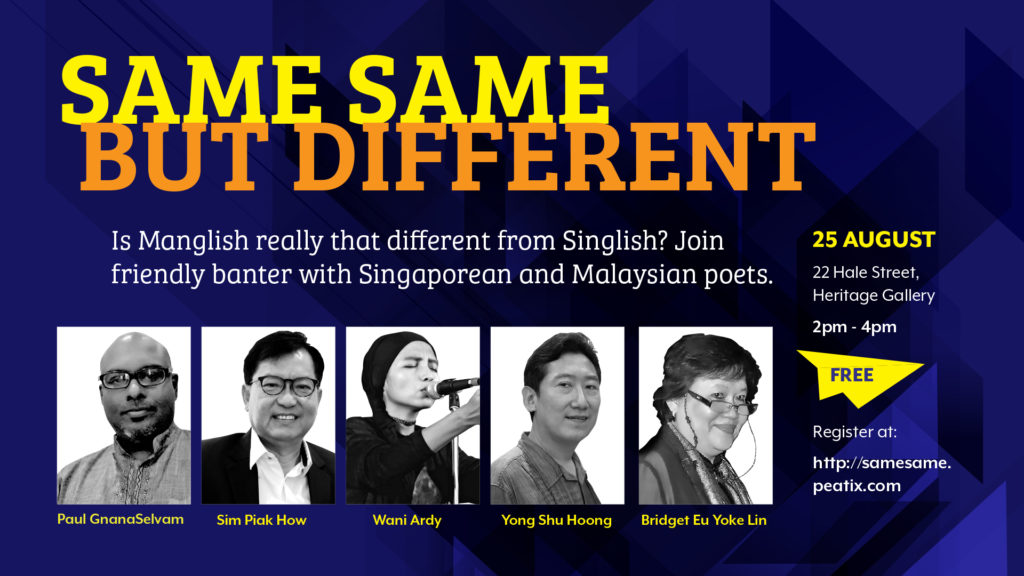 Same Same but Different
Date:  26th August 2017 (Saturday afternoon)
Time:  2pm – 4.00pm
Fee:  Free with Registration (http://samesame.peatix.com)
Panel Discussion open to all.
Singapore poets: Mr Yong Shu Hoong, Mr Sim Piak How
Malaysian poets: Wani Ardy, Paul GanaSelvam & Bridget Eu Yoke Lin
Join friendly banter with Singapore Literature Prize poets Mr Yong Shu Hoong, Mr Sim Piak How and local Malaysian poets, Wani Ardy, Paul GanaSelvam & Bridget Eu Yoke Lin on the similarities and differences between the Singaporean and Malaysian literary and linguistic landscapes. Is Manglish really that different from Singlish? Do both literature contain the same themes and motifs?
This will be followed by a reading of each poet's work. The readings will be in English and Chinese.
Programme Schedule (Total duration = 2 hours)
*all timings are estimation
Poetry reading: (10 minutes estimation each author) Total duration = 30 mins
A quick introduction of the poet and the poetry they chose and why. (4 mins)
Poetry Reading (3 mins)
Thoughts on the poetry writing (3 mins)
Panel discussion (90 mins)
Introduction of all poets (SG & MY) (30 mins)
Start of panel discussion. (40 mins)
Q&A (Open to floor) (20 mins)
SINGAPORE PANELIST PROFILES:
Sim Piak How was born in 1951 and graduated from Nanyang University in 1976 with Honours in Economics. He began writing in the late 60s and in 1972, with a group of young poets, he published New Poems by 15 Singapore Poets. His first poetry anthology, A City's Story (Grassroots Bookroom, 2015) was shortlisted for Singapore Literature Prize 2016.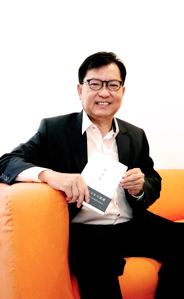 Yong Shu Hoong is the author of five poetry collections, including Frottage (2005) and The Viewing Party (2013), which won the Singapore Literature Prize in 2006 and 2014 respectively. His poems and short stories have been published in literary journals and anthologies such as Language for a New Century (W.W. Norton, 2008). He was the 2013-2014 NAC-NTU Writer-in-residence.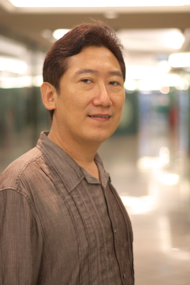 MALAYSIA PANELIST PROFILES:
Wani Ardy is a Malaysian creative writer, poet and independent singer- songwriter. Hailing from Kuala Lumpur, she has been based in Ipoh since 2016. Wani wears many hats; she is editor at Sang Freud Ruhma Ripta, chief editor at CQ Malaysia, founder of Pasar Boco and has 20 years of experience in creative writing and the performing arts. Of the 10 books she has published, two were bestsellers.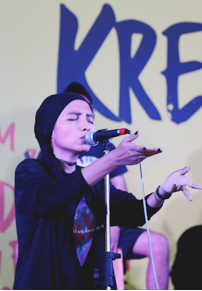 Paul GnanaSelvam is an Ipoh-born writer whose work often focuses on the experiences, issues and identity conflicts of those in the Indian diaspora. His first solo collection of short stories, Latha's Christmas & Other Stories, was published in 2013. He currently lectures at University Tunku Abdul Rahman in Kampar, Perak.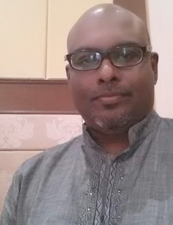 Educated in England and Australia, Ipoh-born Bridget Eu Yoke Lin is a life member with the World Congress of Poets, World Academy of Arts and Culture (WAAC), and the United Poets Laureate International (UPLI). She has given poetry recitals locally in Malaysia as well as in Japan, United States and Singapore.  She is the author of two poetry books When the Footsteps Merge and A Horizon