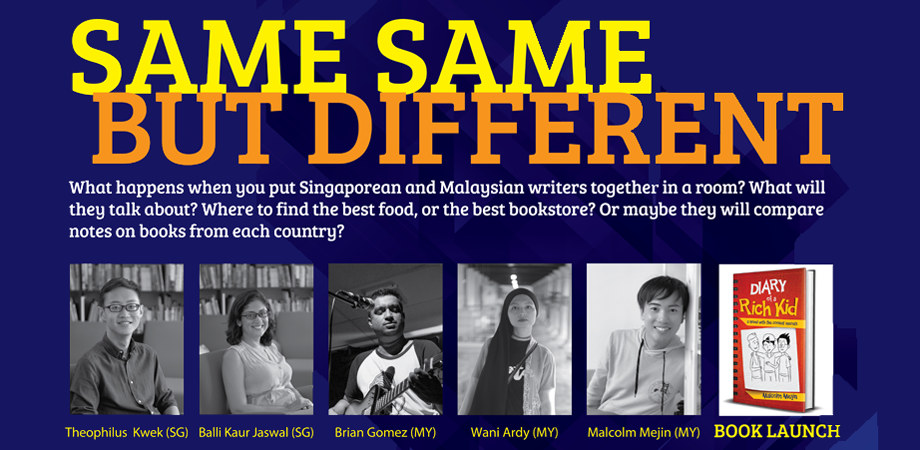 CausewayEXchange 2018
Same Same But Different
 What happens when you put Singaporean and Malaysian writers together in a room? What will they talk about? Where to find the best food, or the best bookstore? Or maybe they will compare notes on books from each country? Five writers from both sides of the causeway have come together to take part in this special literary exchange Same Same But Different. The view from across the causeway may seem similar but yet different. But perhaps the writers – through a celebration of new book launches, conversations and music performances – will discover that they have more things in common than not.
PROGRAMME
1.00pm – 1.45pm                 Book Launch – Malcolm
1.45pm – 2.00pm                 Tea Break
2.00pm – 4.00pm                Same Same But Different
Writers On Writers I – Featuring: Wani Ardy and Theophilus Kwek
Writers On Writers II – Featuring: Brian Gomez and Balli Kaur Jaswal
Performance and Reading
4.00pm – 4.15pm                   Tea Break
4.15pm – 5.00pm                    Book Launch – Yasmin Ahmad
Rating:  General Public
Date: 23 September 2018
Time:  2:00PM
Venue:  Playden @ The Arts House

Book Launch – Diary of a Rich Kid by Malcolm Mejin
More than just secrets …

Robin Jin's about to embark on a new adventure with his best friends—a trip to the Bahamas! He's all prepped up for the ultimate vacation of a lifetime. Traveling in style is the way it should be.

But things aren't turning out the way Robin has envisioned—the crystal clear waters of the Bahamas aren't as inviting as they should be.

Something sinister is ready to unfold, turning Robin's vacation into an unforgettable roller-coaster ride.
Malcolm Mejin

Malcolm Mejin is one of the youngest Malaysian authors who has penned his debut novel, Cool Diary. Besides Cool Diary, he has also authored a young adult novel, Cinderella Charmed, which is an unusual modern twist to the popular fairy-tale classic. He has written Zany Zombie, a series for kids with stories set in a fantasy world of zombies, vampires and witches. Recently, he has authored Diary of a Rich Kid, a novel inspired from his hometown Kuching. The novel, an eclectic mixture of quirky humor, adventure and unforgettable antics, is sprinkled with relatable local and pop-culture references.

Malcolm studied journalism during his university years, and he has worked as a journalist for a period of time. He has also contributed articles for blogs and magazines, from health to finance. Having worked as a copywriter as well, Malcolm has taken up a few mega projects in the advertising industry in the past.
Writers On Writers I
Featuring: Wani Ardy and Theophilus Kwek
Join Malaysian creative writer, poet and singer-songwriter Wani Ardy and the Singapore Literature Prize-shortlisted poet Theophilus Kwek as they talk about their love for poetry, and  why literature matters now more than ever.
Writers On Writers II
Featuring: Brian Gomez and Balli Kaur Jaswal
What are the ingredients that make a book a potent read? What novelistic techniques and personal experiences can writers draw on to shape their narrative? Let the fiction writers Brian Gomez and Balli Kaur Jaswal tell you how they do it.
Performance and reading
Featuring: Brian Gomez, Wani Ardy and Theophilus Kwek
Don't miss this special showcase featuring writers-musicians Brian Gomez and Wani Ardy as they perform their original works, together with a poetry reading by Theophilus Kwek.
Book Launch – Why "Yasmin I lup chew"
"Yasmin kisses us and says this delightfully ridiculous Malaysian version of "I love you" – "I lup chew" – whenever we part. Followed by an "Asalamualaikum" of course. She had so much "lup" to share. All her life, she also generously shared whatever knowledge she found useful with others.
This is why this book is so important to us.
In it are her handwritten notes and photos– all kept in simple empty shoeboxes in our home. You will see her observations, her first attempts at script writing, at poetry, at story-telling. Admittedly, her initial attempts are might seem clumsy, but she never gave up trying.
In them, you can see tiny glimpses of what eventually would become her countless little filmlets for her work in advertising, her six movies and as well as her yet-to-be-filmed script based on her beloved mother, Mak Inom, entitled "Wasurenegusa" which is the Japanese word for the "Forget Me Not" flower. Yasmin took her close friends' and our family's idiosyncrasies, and incorporated them into her films Sepet, Gubra, Mukhsin, Talentime, Muallaf, and of course, Rabun.
We hope that when you read this book, you too will be inspired by the sense of the ridiculous within your own families, and discover your own specialness too.
As Yasmin always said, she makes films to entertain Mak and me. For all the joy she has brought us, we would like to share it with you.
Thank you for reading this, and please pray with me that God bless the souls of Yasmin and Mak Inom. Al-Fatihah.
Yasmin, I lup chew & miss you so much
Haji Ahmad bin Hashim aka Abah"
Bios
Balli Kaur Jaswal

Born  in  Singapore  and  raised  in  Japan,  Russia  and  the  Philippines,  Balli  Kaur  Jaswal  studied  creative  writing  in  the  US.  She  has  received  writing fellowships  from  the  University  of  East  Anglia  and  Nanyang  Technological  University,  and  was  named  Best  Young  Australian  Novelist  of  2014  by  the  Sydney  Morning  Herald. She is the author of three novels, and was shortlisted for the Singapore Literature Prize 2018 Fiction in English for her book Sugarbread (Epigram Books, 2017).
Theophilus  Kwek

Theophilus  Kwek has  published  five  volumes  of  poetry,  most  recently The  First  Five  Storms (2017)  which  won  the  New  Poets' Prize.  His  poems,  essays  and  translations  have  appeared  in  The  Guardian,  The  London  Magazine,  The  Irish  Examiner,  the  Asia  Literary  Review,  and  elsewhere.  He  serves  as  Editor  of  Oxford  Poetry. He was shortlisted for the Singapore Literature Prize 2018 Poetry in English for his poetry collection Giving Ground (Ethos Books, 2016).
Wani Ardy

Born in Kuala Lumpur into a Salatiga family, Wani Ardy is a poet, creative writing teacher, and singer-songwriter. Including the recent 'Hujan Bakawali di Rumah Tuhan', Wani has published 9 books since 2009, 2 of which are bestsellers; 'Langit Vanilla' and 'Untuk Yang Telah Pergi'. She had represented Malaysia at poetry and art festivals in Makassar, Jakarta, and Singapore. Wani is currrently recording her first album with her band WIDYA and they have been performing locally and globally since 2006.
Brian Gomez

Brian Gomez is the author of the cult Malaysian novel – Devil's Place, which was first published in 2008. His short stories have appeared in various anthologies including KL Noir, Body2Body and Readings from Readings. He is also a musician who fronts local rock band Putrabumi. The band plays regularly at Merdekarya, an independent music bar in Petaling Jaya that he co-owns. Putrabumi's album, Bukan Budaya Kita, is streamed on Spotify and all major online platforms.