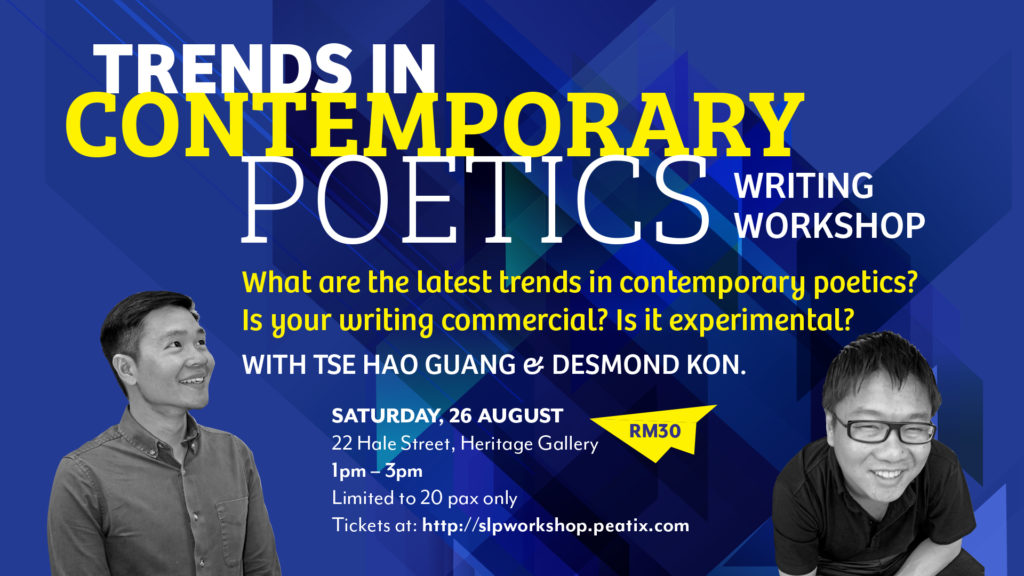 Trends in Contemporary Poetics: Writing Workshop
Date: 25 August 2017
Time: 1pm – 3pm
Fee:  RM30 ( http://slpworkshop.peatix.com)
Max participants: 20
What are the latest trends in contemporary poetics? Is your writing commercial? Is it experimental? Join poet Desmond Kon Zhicheng-Mingdé and Tse Hao Guang, as they shares various techniques that will help you explore the limits of language, experimenting with structure and voice. These tips will not only aid in idea generation, they will help you gain control over your aesthetic. Each participant will receive a set of published poems by award-winning authors, to get an immediate sense of current trends. Writers immerse themselves in this open and creative space, one that welcomes a diverse range of aesthetic sensibilities.
About the Facilitator
Desmond Kon Zhicheng-Mingdé is the author of an epistolary novel, two hybrid works, and seven poetry collections. A former journalist, he has edited more than 15 books and co-produced three audio books. I Didn't Know Money Was a Conceptualist (2014, Math Paper Press) was a Co-Winner of the Singapore Literature Prize English Poetry category in 2016.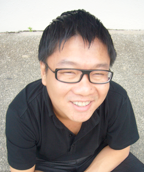 Born in Singapore to Hong Kong and Malaysian parents, Tse Hao Guang authored poetry anthologies such as hyperlinkage (2013) and Deeds of Light (2015, both Math Paper Press). He graduated from the Masters of Arts Programme in the Humanities at the University of Chicago, United States, in 2014 with a concentration in poetry and creative writing.