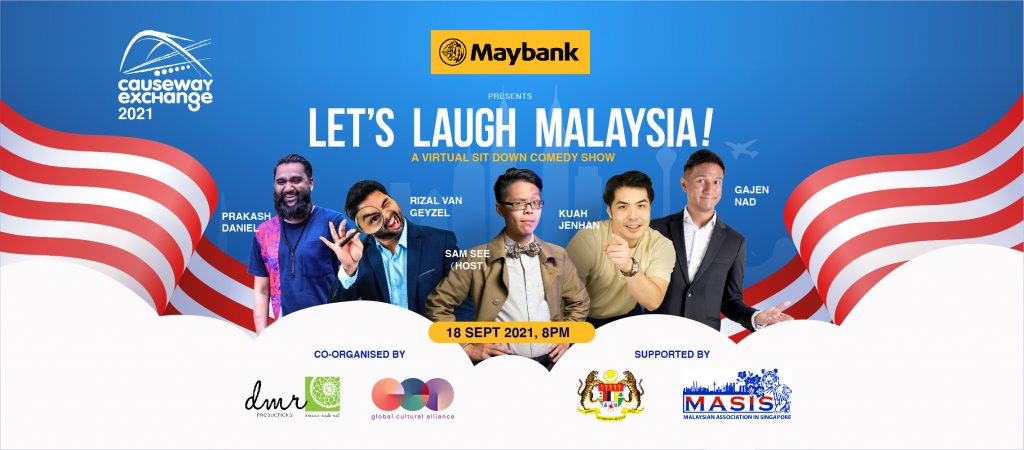 CausewayEXchange has been making people laugh for over a decade and one measly unprecedented pandemic isn't going to end that streak. We firmly believe that laughter (along with the vaccine lah) is the best medicine to see us through these dark times.
With our patented KETAWA technology, we have devised a virtual comedy show for these times that will make you laugh out loud, (and we mean out loud,not just that nose exhale). We are proud to present our show, "Let's Laugh Malaysia!"
"Let's Laugh Malaysia!" is a free, virtual comedy show, sponsored by Maybank Singapore.This is our way to show our support for Malaysians in Singapore who have been separated from their families for over a year now. Featuring some of the best comedians from Malaysia and Singapore, we hope that a dose of local humour will help cure some of the homesickness that's been plaguing many of us.
Our "unique vaccine" will be given out in 4 doses of laughter by 4 Malaysian comedians:
Rizal Van Geyzel, probably, the most rojak Malaysian, everyone will "get it from him" when this Malay / Chinese / Turkish / Dutch comedian unleashes his unique perspective on Malaysian life.
Kuah Jenhan, is one of Malaysia's most sort-of decorated comedians, receiving several nominations for prestigious awards, including Best Comedy Show at Perth Fringe World 2016 and winning none.
Gajen Nad, also known as Malaysia's First Chin-dian Comedian, Gajen has a knack for making Malaysian humour universally funny; performing over 80 shows alongside comedians from the US, UK, Australia and Hong Kong.
Prakash Daniel, whip-smart and energetic, Prakash's shows are like laughing all night with your best friend; a skill this seasoned comedian and co-showrunner of Malaysia's longest-running comedy open mic, One Mic Stand, has perfected.
Last but not least, hosted by a comedian with "real steel in his comedic bones", Sam See from Singapore will be sure to get you laughing wherever you tune in from, with Comedy Central Asia recently featuring him in Stand-Up Asia, showcasing the top twelve Asian comedians.
Happening on Hari Malaysia, we hope to unite Malaysians who are feeling a little lost and alone to balik kampong with us and laugh with your kakis.
Event Details
Date: Saturday, 18 September 2021
Time: 8.00pm
Duration: Approx 90 minutes
Price: FREE with Registration at  https://llm2021.peatix.com